Despite the ridiculous heat here in Houston, I've been thinking about fall sewing. Now please understand, fall is not cool here in Houston! September usually feels like an extension of August. October, while slightly cooler, isn't really what most people would consider to be fall temperatures. It isn't until November that I'm usually back in cardigans and light weight jackets. I'm not complaining. I don't actually mind the warmer weather. But November is probably my favorite 'fall' month.
Since we don't usually need heavy cold weather jackets (yes, we have had some temps down in the teens last February, but that is really unusual!) I rely on a lot of light weight jackets and layering. Layering is really my friend!! Yet I love the look of jackets. I have at least 3-4 jacket UFO's sitting in my sewing area. Apparently I hate sewing them. Guilt overtook me this weekend and I was really determined to finish one of them. After all, I do have several jackets I've made, and one of them I really love. Which got me to thinking about
why
I really love it. The answer was really simple, and it was a light bulb moment for me. Are you ready? I don't like lapel jackets. ALL of the UFO's I have are lapel jackets. Yet jackets like
KS 2616
I can make over and over again, I never get tired of the style, and they end up being staples in my wardrobe. I'm also really loving Simplicity 2149 which you can see above. Probably not the bolero style jacket, because it would really emphasize my "I've had four kids" tummy, but the other two versions are really nice. I love the raglan style sleeves. This is one I definitely plan to add to my fall sewing. I also want to make a sleevless jacket. I was browsing the fall Simplicity patterns on
Pattern Review
and saw the anorak jacket. While I really like it, it's just not something that I would get a lot of wear out of as a traditional jacket. However, the vest version could really get a lot of use. You can see it here,
View A
. Sorry about the link, but the photo wouldn't load in blogger well!
In addition to light weight jackets, I also like a few cardigans. I have the traditional cream and charcoal, that match 99% of my wardrobe. So this year, I'm going to make a few fun ones! Most likely as twin sets. I found this sweater knit at fabric.com. I really, really fell in love. It will go great with several khaki skirts as well as a pair of brown trousers that I own. For this twin set, I'm going to use KS 2948. I've owned this pattern for years, but when I bought it, there wasn't a lot of selection when it came to sweater knit fabrics. Plus I could buy cardigans on sale at the end of the season, and became well stocked in the basics. So this has sat on the back burner for ages. Of course, fabric shopping online has come light years from where it was 10 years ago, and now I can easily shop at a variety of online stores and get great selection.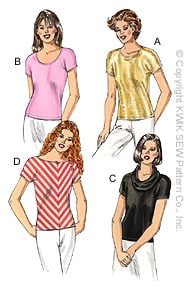 Because I work in the corporate world, my wardrobe tends to be pretty tailored. Even my 'casual' wardrobe isn't very casual. I rely a lot on separates to mix and match and extend my wardrobe. Knit tops, hands down, are my biggest staple. And Kwik Sew is always my go to pattern choice for knits. I have no desire for 5/8 seam allowances that I'm going to have to trim down. I also love that KS usually has a variety of options in one envelope. Take for example, KS 3036 (apparently OOP, but still available at Patternreview.com). There are four options for a knit shirt. One with a more traditional neckline (think t-shirt without the ribbed band) and a scoop neckline. There is also a bias cut front and back with center font and back seams with a boat neckline option (which I will be making with a lace knit fabric for the fall!), as well as cowl collar. All of these use a dolman sleeve, which I think is a little dressier for a work t-shirt. A cut on sleeve is just a more casual look.
Now for business casual Fridays, where we can actually wear jeans and khaki's, I rely on KS 3059. I admit to only using view B. We can't wear sleeveless in the office without a covering of some sort. But I love that I can make a classic polo in a silk knit (very yummy fabric). Fabric choices can really dress up a pair of jeans! Because sometimes you have impromptu meetings, even on Friday, when you still need to make a good impression from visiting vendors. I hate boxy polo shirts, so this is definitely a favorite!
So here is my fall sewing list:
This is an ambitious list! I'm going to make the tops first, because they will be the easiest. The dress will come last, because I need to do a muslin before I cut into my good fabric. I've ordered all the fabrics and I have all the patterns. I'm hoping to have all this completed by the end of October. I'm sure a few extra pieces will get added in when I feel inspired, lol...